This functionality is available under Accounts/Year End/Change VAT-Rates. The VAT adjustment function is required if the rate of VAT is changed, for example, by a legislative amendment.
Please always make a Fast backup before using this function.
The VAT adjustment must be carried out separately in each account area.
It can be carried out at the earliest on the day of increase.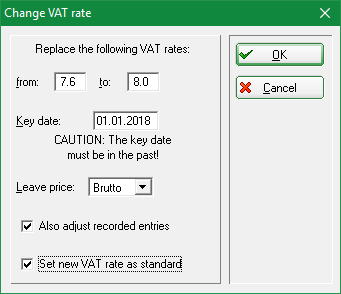 This screenshot clearly shows that the VAT can only be changed retroactively. Of course, you can also make the change for the current day, in which case the VAT will be adjusted retroactively for the whole day. However, it is advisable to register the change before the first booking of the new tax, since the previously printed receipts are otherwise incorrect.
A statutory VAT increase in Switzerland is effective since 1st of January, 2018. If you want to retroactively apply this tax from 5th of January 2011 without changing the gross prices, you should make the following settings: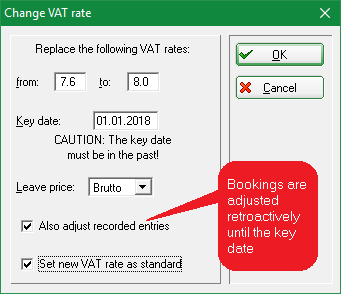 Use the field Leave price to select the price you want to leave unchanged ("Net" or "Gross"). If you select net, the new gross price will be calculated automatically. This works for cash accounts only if you have entered the net price in the articles. The net price is always filled-in automatically for contribution accounts.
PC CADDIE notes the VAT adjustment and suggests the change for the new articles as well.
Certain items, such as drinks that are not consumed in the restaurant, but on the course field, have a lower VAT rate (2.5% in Switzerland from 1st of January).
Please do not forget to also adjust the items in case of statutory VAT reduction. Read more about this here: Create or change articles with reduced VAT.