This functionality is available under Accounts/Year End/Change VAT-Rates. The VAT adjustment function is required if the rate of VAT is changed, for example, by a legislative amendment.
Please always make a Fast backup before using this function.
The VAT adjustment must be carried out separately in each account area.
It can be carried out at the earliest on the day of increase.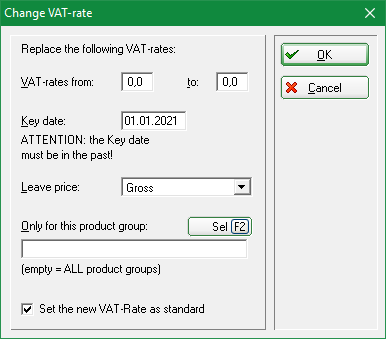 If you would like to leave the net price as it is instead of the gross price, select this in the Leave price field. The new gross price is calculated automatically.
PC CADDIE notes the VAT adjustment and suggests the change for the new articles as well. Check the box "Save new VAT rate as standard" only for the most frequently occurring VAT rate (e.g. at 19%).
Please do not forget to also adjust the items with a reduced VAT rate in case of statutory VAT reduction. These must be changed in a second step!