Table of Contents
List of clubs
Selection by groups
Of particular interest here are individual selection possibilities based on groups; for example, if you want to print a list containing only the clubs with which you have a green fee agreement. First, you have to prepare the club data. Select the desired group under Setup/ Clubs+Courses/ … new, edit, delete and press Edit.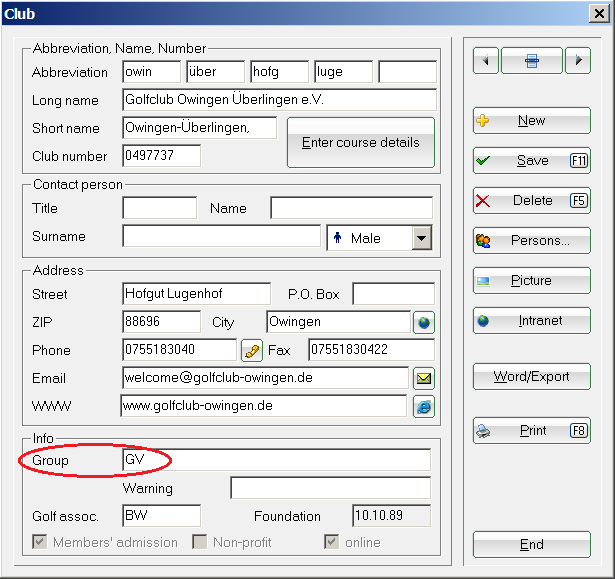 Now enter an abbreviation in the field of your choice for each club with which you have a green fee agreement (the abbreviation should be the same each of these clubs). Now enter the same abbreviation (for example "GV") in the Group field when printing the club list.
You will obtain the following list:
Selection based on the golf association
Or maybe you want a list for a specific golf association. In this case you should use the field Golf association. Enter the association's abbreviation.
You can enter multiple abbreviations separated by commas if you want to simultaneously print all the golf clubs from multiple associations (for example, "BAY,BW" for Bayern and Baden-Württemberg Golf Associations).
| Abbr | Golg association |
| --- | --- |
| BW | Baden-Württemberg Golf Association |
| BAY | Bavarian Golf Association |
| BER | Berlin-Brandenburg Golf Association |
| HAM | Hamburg Golf Association |
| HES | Hessian Golf Association |
| M/V | Mecklenburg-Western Pomerania Golf Association |
| NIE | Lower Saxony / Bremen Golf Association |
| NRW | North Rhine-Westphalia Golf Association |
| RP | Rhineland-Palatinate / Saarland Golf Association |
| AN | State Golf Association Saxony-Anhalt |
| TH | Saxony and Thuringia Golf Association |
| SH | Schleswig-Holstein Golf Association |
Using SH for the Schleswig-Holstein Golf Association you obtain this list:
Selection based on country
en/einstellungen/clubsundplaetze/drucken/clubliste.txt · Last modified: 2017/04/30 09:41 (external edit)